Nicolas C
Davie, FL
September 06, 2019

Holly Z
Jenks, OK
September 05, 2019

Katie B
Pittsboro, NC
September 04, 2019

Howard W
Hackensack, NJ
September 03, 2019

Randy J
Little Rock, AR
September 02, 2019

Garry S
Porters Lake, N.S. Canada
September 01, 2019

Hi Moishy,
MDC Diamonds

You absolutely out did yourself with this ring. I picked it up from my father who signed for it Thursday. I am in complete awe! It is everything I could have ever imagined and more!!!

I appreciate so much that you gave us the opportunity for the return and the fix, I am beyond happy that I worked with you! This is a timeless piece, so incredible and stunning. You've really made that aspect of our engagement unbelievable. We are getting so many compliments on the engagement ring already.

Thank you so so much!!!!
Courtney & James
Courtney S
Lynn, MA
August 24, 2019

thank you for making my bridal set, the engagement ring and matching weeding match so perfectly. I will come back to MDC diamonds for matching earrings.
Daniela B.
Stamford, CT
August 23, 2019

Moishy,

I just received the engagement ring setting. Outstanding timing! I sincerely appreciate you at MDC Diamonds New York making the extra effort to have it sent out yesterday and I am really happy to have it in hand. It is a beautiful setting; very well done.

Kind regards from a satisfied customer,
Daniel D
Mansfield, MA
August 20, 2019

Ilana M.
Philadelphia, PA
August 18, 2019

Hello Moishy,



I received the parcel in good conditions.



I like the stones and the earrings look nice.
Valentin T
Bucharest, Romania
August 15, 2019

Hi!

Received, and it is more beautiful than I thought!

Perfect fit also :).

As always, thank you!
Simona F
River Edge, NJ
August 14, 2019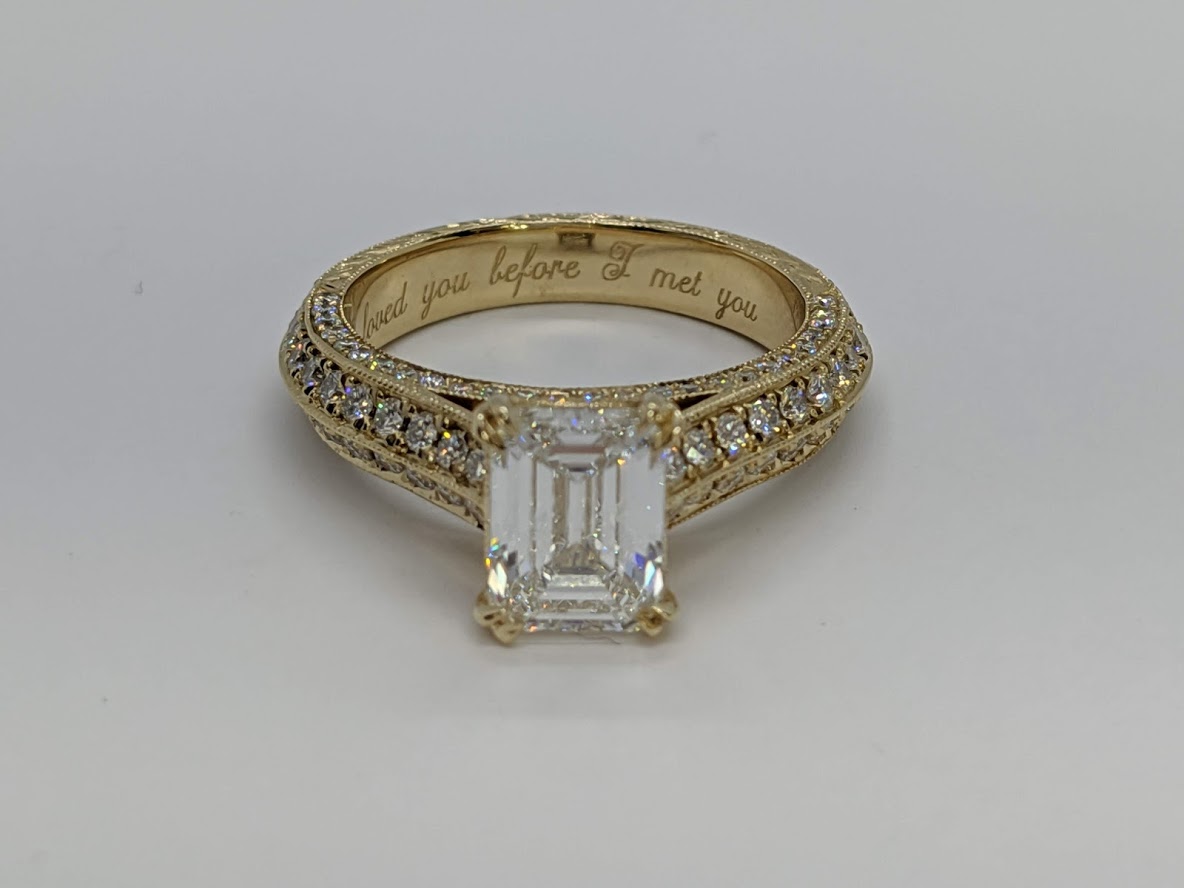 Moishy,
Just caught my breath from my first look at the beautiful engagement ring! All is well here! Thank you MDC diamonds NY very much for such a great job! All the very best to you!
Robert J
Orlando, FL
August 10, 2019

Frida C.
Laurel, MD
August 06, 2019


Seaford, NY
August 02, 2019

Bruce Y.

July 25, 2019

I was looking for an engagement ring and saw someone was selling one they bought from MDC Diamond. I decided to go to the source and was impressed with how much information they provided on the website. I never fully realized how much went into choosing a diamond and ring. I was in constant contact with Moishy and there were so many quick responses. I remember the diamonds I was looking at were a bit expensive and Moishy could've very easily sold me on one, but instead educated me on how even the slightly less expensive ones are still just as good. I really appreciated that. I would definitely recommend this business for anyone looking for rings and I know where I'll be going for my wedding rings.
Ryan D
Saint louis, MO
July 18, 2019

the ring is exactly they way i expected it. thank you David

Kearny, NJ
July 15, 2019



I would definitely recommend MDC Diamonds to anyone in the market for an engagement ring. The whole process was quick and painless. I designed the ring I wanted on the website but my soon to be fiancé and I decided to go to the office so we could actually see the different carats and colors side by side. Moishy was super helpful extremely knowledgeable and easy to work with. He helped me find a really beautiful diamond (1.5 carat D color marquise SO PRETTY) that was within our price range. We needed the ring within a two week time frame (which I was in a bit of a panic over) we ordered the ring June 28th and got it July 9th which was earlier than I expected! I was able to text Moishy to stay updated throughout the entire process he was very responsive, so nice and really just great to work with. The ring arrived today and it is just beyond stunning it took my breath away even the ring box itself is beautiful (it has a light!) they absolutely exceeded my expectations! *Note: For the inexperienced engagement ring buyer take the extra time to get sized and go look at the actual diamonds. I would have ordered a ring a full size too big in the wrong color left to my own devices! I had no idea what the difference is between an M color diamond and a D I just saw that you could get a bigger diamond for the same price the further you went. The M i saw was actually a very pretty yellow hue but I had no clue there was such a big difference in color! I also thought I wore a size 7 or 7.5 and I needed a 6.25 so definitely work with a human if you're new to this!
Gabrielle Trovati
Blairstown, NJ
July 09, 2019

Briana D.
Richmond Hill, NY
July 07, 2019

Hi Moishy,



I wanted to let you know that the diamond pendant arrived today. It's lovely! Thanks so much for all of your help with it. I know my mom will love it and that it will make her 80th birthday even more special. Great decision to add the two small stones (for mom and dad).



Warmest,



d
Dee M
New York, NY
July 03, 2019

thank you for the custom band. I love it
Brit L.
Willingboro, NJ
June 27, 2019

Jeevan, R.
Berkeley Heights, NJ
June 23, 2019

Thank you Moishy, for all your help! Wedding Ring has been received and is beautiful!
All the best,
Lisa D
Lisa D
Sun Prairie, WI
June 19, 2019